Think Differently Study by James McDonald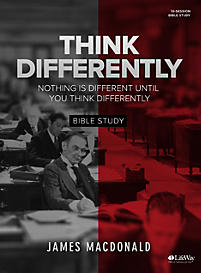 *Nothing Is Different Until You Think Differently*
Why do we lose our temper? Why do we tend to hurt those we care for most? How do families find themselves broken? The reason is often the way we think. Beyond behaviors and deeper than attitudes, thinking determines outcome more than anything else. The Book of Romans will challenge us to have our minds renewed. Learn to renew your mind in Christ as you identify and overcome the mental, familial, and self-created strongholds that enslave you.
Benefits for you:
Identify and address the strongholds in your life.
Overcome the strongholds that result from family values and systems.
Learn how to avoid double-mindedness and indecisiveness.
Learn how to replace strongholds and long-held conclusions with biblical truth.
Discover biblical paths to repentance.
Overcome the disorientation encountered along life's journey to find hope in God's sovereignty.
Adopt strategies for thinking differently from a renewed, Christ-centered perspective.